Water Wise
When it rains, Los Angeles sends billions of gallons of 'free liquid gold' down the drain
During one of this winter's frequent storms, sheets of rainwater spilled from roofs, washed across sidewalks and down gutters into a sprawling network of underground storm drains that empty into the Los Angeles River channel. (Same goes for Ballona Flood Control Channel. Billions of gallons of rainwater

flow into the Pacific Ocean at Santa Monica Bay.)
​You can reduce your water bill by capturing "free" rainwater.
 Private homes cover 60% of our developed LA land mass. 
89% of our water comes from hundreds of miles away. 
Do your part. Capture "free" rainwater on site. 
Adapt simple methods described here. 
Plants and trees will thrive.
TREES TAKE CARE OF EACH, THEY SHARE WITH EACH OTHER, THEY STORE WATER IN THEIR ROOT SYSTEMS
SUMMER 2019 | KEEPERS OF THE WATERS
BIOSWALES: WHAT ARE THEY?
Thanks to these natural runoff filtration structures, we don't have to choose between great landscape aesthetics and eco-friendly design.
Diagram by Julia Cauller
BIO-WHAT?
Bioswales are a unique green solution to the problem of contaminants in stormwater runoff. Bioswales slow down and collect polluted stormwater runoff and then filter it prior to returning it into the water cycle. They accomplish this filtration with the help of two natural processes: filtering water by passing it slowly through porous material, along with phytoremediation, where plants remove contaminants. Bioswales can contain sand, compost, and rock trenches along with native species of plants, which are adapted to local conditions. The inclusion of local plants is also important on an aesthetic and educational level: these plants blend in with the local environment and can serve as a tool to educate the public on issues of native biodiversity. Bioswales are a small but necessary remedy to the unmitigated proliferation of paved surfaces in our car- centric world. Parking lots especially create massive concrete plains incapable of absorbing or filtering stormwater.
To learn more about bioswales, check out the Soil Science Society of America: tiny.cc/soil-science-society
SWALE
/swāl/ • noun
a low or hollow place, especially a marshy depression between ridges.
WHAT DO BIOSWALES FILTER?
Silt
Organics
Pathogens
Harmful fertilizers
Metallic compounds such as mercury and lead
Rain Water Capture and Reuse discussion by Jeanette Vosburg at the Culver City Garden Club  9.2.15. Capturing rainwater has saved 40% on the water bill from 2014 and 2015. Jeanette suggests choosing one or two of her ideas on your own property. 41 Minutes
Action Item For A Homeowner:
If you own a home or unimproved land, consider capturing water on site.
Exploring Rainwater Capture Options.pdf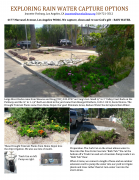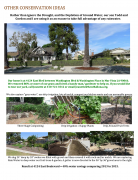 Action Item For Activitist: 100+WAYS TO CONSERVE
VIDEOS
Implications of Ballona Wetlands Restoration - Travis Longcore