Stop the Dig at Ballona - Write Letters/Emails NOW!
Editor at the LA Times:  
Editor at The Argonaut:  
Letters should be 400 words or less and include your full name and area of residence. 
Governor Newsom      
              Postal Letters to Governor Gavin Newsom
             1303 10th Street, Suite 1173, Sacramento, CA 95814, Phone: (916) 445-2841
              Postal
Letters to Wade Crowfoot, Secretary
               California Natural Resources Agency, 1416 Ninth Street, Suite 1311, Sacramento, CA 95814, Phone: (916) 653-5656
LA Mayor Eric Garcetti 
mayor
.
helpdesk
@
lacity
.
org
Postal Letters to Mayor Eric Garcetti, 
City of Los Angeles, 200 N. Spring Street, Los Angeles, CA 90012
LA

Councilman

Paul Koretz, District 7
CA Senator, Ben Allen District 26
Postal Letters to Holly Mitchell
Kenneth Hahn Hall of Administration, 
5
00 West Temple Street, 
Suite #866, 
L
os Angeles, CA 90012
Fish & Wildlife: SouthCoast Region/LA
State Water Board
Letters about Stopping Freshwater Diversion 
by Playa Vista Development and (CDFW)
Letters to Sierra Club Angeles Chapter
Executive Director, Morgan Goodwin
Phone (213) 387-4287, Ext. 210
Letters to Sierra Club Angeles Chapter
Conservation Chair, Darrell Clarke
Coming Soon -- Sample Letter To Defend the Ballona Wetlands Ecological Reserve, as a Predominantly Freshwater Seasonal Wetland and Oppose the Certification of the Current Final Environmental Impact Report to Dig Out and Create a Full Tidal Saltwater Wetland: 
Dear _____________,
Put your heart felt comments first (See Background information below for ideas. Form letters are not counted unless the letter is personalized)
The California Department of Fish and Wildlife (CDFW), the State's lead agency authorized with the protection and preservation of endangered ecosystems in the Ballona Wetlands Ecological Reserve (BWER), has now certified its Final Environmental Impact Report (FEIR), pursuing its intention to convert the BWER from a predominantly seasonal freshwater wetlands into an open, full tidal saltwater bay.
I oppose this FEIR. I agree with the Environmental Organizations who oppose the FEIR certification who are filing lawsuits that challenge the CDFW plan. These lawsuits are CEQA litigation. . . The CDFW FEIR threatens the integrity and survival of the endangered ecosystems of the BWER and we believe are in violation of numerous state and federal laws in addition to having  numerous California Environmental Quality Act (CEQA) violations.
Environmental Laws:
a. 1959 Poland Report etal (hydrology report of LA Basin)
b. 1954 Congressional House Doc 389 and 780 establish Marina del Rey 
                    Complete 47 pages MDR House Document No. 389 SMB - Public Law 389 5:11:1954   47 page pdf
                     Annotated House Document No. 780 SMB - Public Law 780 9-3-1954  Rivers and Harbors Act 2 page pdf
c. 1961 Department of Water Resources Map of Ballona's Freshwater Aquifers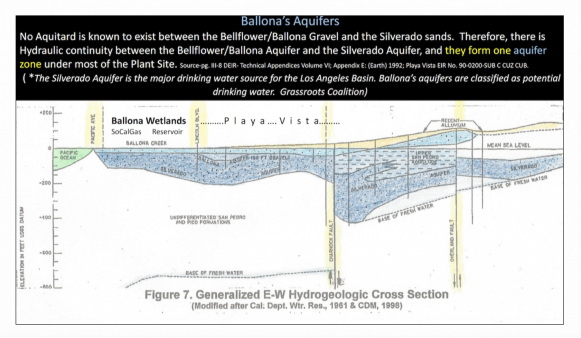 Sierra Club national policy statements address many of these areas of concern (see att).  
Sierra Club designed these policy statements to "protect and restore the quality of the natural and human environment."  
In its Mission Statement, Sierra Club is authorized "To educate and enlist humanity to protect and restore the quality of the natural and human environment; and to use all lawful means to carry out these objectives" 
BACKGROUND INFORMATION: 
2020 WHITE PAPER PRESENTATION BY PATRICIA MCPHERSON PRESIDENT GRASSROOTS COALITION 
https://saveballona.org/2020-white-paper-presentation-patricia-mcpherson... 
YOUTUBES & SLIDE SHOWS  
https://saveballona.org/youtubes-vimeo-video-slide-shows-library-and-lin...
STOP DRYING OUT BALLONA AND THE THROW AWAY OF FRESHWATER
https://saveballona.org/jvstop-drying-out-ballona-wetlands-ecological-re...
How Hazardous is too Hazardous? SoCal Gas Underground Storage Operations
https://saveballona.org/how-hazardous-too-hazardous-socal-gas-undergroun...
News Article or New Content: