SoCal Gas' own documentation of their gas leakage, migration and expansion beyond their approved boundaries.
Who knew what? Was the City of Los Angeles informed? Was the Public informed by SoCalGas?
The impacts of SoCal Gas operations remain more contentious than ever today, with possible health impact to not only humans, but wildlife and plants. As gas leaks to the surface, pulling toxins from the old oil fields, aquifer contamination occurs and gas can accumulate in buildings and burrows. Many of the gases are toxic and known to cause cancer and birth defects. The slides include SoCal Gas documents discussing how SoCal Gas might avoid legal liabilities for gas leakage, in wells poorly abandoned within their operational area, and provides SoCal Gas data for types of leaks and where it happens. SoCalGas reservoir gases leaking to the surface, bring into question the power of the Los Angeles City Conditional Use Permit as an avenue to close down the SoCal Gas operations.   PDR Timeline
Ballona Wetlands is not just an Ecological Reserve, but is also used by SoCalGas for Underground Gas Storage since 40's. The linked video and it's slides discuss SoCalGas's operational history of expansion outside their approved boundaries, and provides SoCalGas' own documents, which reveal SoCalGas's knowledge of the their gas' leakage to the surface and their discussions of operational pressures causing gas migration beyond their approved 240 acre boundaries.
Sierra Club Airport/Marina Group SoCalGas History of Underground Gas Storage Field Operation Presentation by Grassroots Coalition President Patricia McPherson on April 16, 2019
Download the video's 27 slides in a 110 megabyte pdf file:
Patricia McPherson SOCALGAS PLAYA DEL REY PRESENTATION 4.16.19.pdf
https://www.youtube.com/watch?v=7ZgQtCKEvc8&t=93s   Patrica McPherson presents History of Underground Gas Storage Field Operation
https://www.youtube.com/watch?v=7ZgQtCKEvc8&t=1599s  Dr. Tom Williams, Gas and Oilfield Migration Expert, presents How to Take Action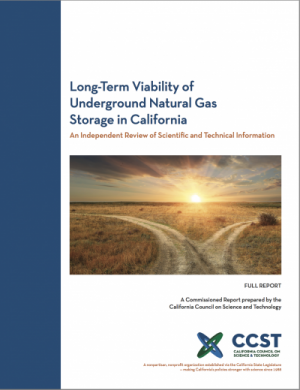 Read the CCST Report
SoCalGas-Playa del Rey, CA underground gas storage facility is singled out in the CCST Report stating,
"Our report questions, but does not answer, the impact of closing this site. The State should commission a cost-benefit analysis including full consideration of risks associated with loss-of-containment from this facility."
Mike Asks Governor Newsom for Action to Protect Playa del Rey from Gas Storage Field Disaster
Mike sent a letter to California Governor Gavin Newsom this month, strongly urging the State of California to undertake a cost-benefit analysis of halting operations at Southern California Gas Company's Playa del Rey gas storage facility.
The facility operates directly adjacent to Mike's constituents' homes and businesses in Playa del Rey, Playa Vista, Del Rey, and Westchester. In recent years, residents have expressed concerns to the city about odors, oily mist, oil field rigs and equipment left idle at sites for long periods of time, a lack of information on operations, possibly unpermitted well maintenance activities, and hillside soil erosion. As recently as January of this year, we have had multiple incidents related to this facility including a 10-minute geyser of sediment and natural gas that was released when a capped well was disturbed during construction activities in Marina del Rey.
In early 2018, the California Council on Science & Technology (CCST) called on the State of California to initiate a cost-benefit analysis on the feasibility of long-term natural gas storage in California. That report further warned that the Playa del Rey facility is of particular concern - more so than even Aliso Canyon - to the health and safety of populations surrounding the site. Further, CCST stated that the Playa del Rey facility does not store or withdraw a significant amount of gas - providing only 1% of the total across California.
The recommendation from the Council on Science and Technology is clear - the State should commission a cost-benefit analysis including full consideration of risks associated with loss-of-containment from this facility. In his May 14 letter, Mike asked for Governor Newsom's support for the cost-benefit analysis to be launched as soon as possible.
Links for Top Horizontal Menu: