Play the movie to the left to see an actual field test.

The developers plan to coat the ground at Playa Vista with either a material like this product at the left called Liquid Boot or a product called HDPE, a sheet product which is a high density polyethylene plastic membrane. This video shows one of the first field tests of Liquid Boot, a spray on membrane. In early 2001, the County of Los Angeles started requiring, for the first time, a "smoke test". In late 2001, the City of Los Angeles followed suit. It is obvious from this test that there is a great probability that prior applications of this product are leaking throughout the City. The smoke test enables the applicator to see where the membrane is leaking and to then recoat it.

The full video demonstrates that even premier applicators don't find all of the leaks. Additional construction activities may cause other areas of the Liquid Boot to rupture and leak, too. Liquid Boot was designed as a roofing material and it has only a two year warranty. Liquid Boot documents reveal that it fails at 3 to 5 psi. The Playa Vista site due to its high water table and the high level of gases emerging can exert higher levels of pressure than 3 to 5 psi. For these and other reasons, Liquid Boot was not allowed to be used at the Belmont Learning Complex.

Would you trust this material as the only thing standing between you and deadly gases?

For more information on Liquid Boot and HDPE, click here.

Please note: if the movie does not load and play automatically you may not have the necessary QuickTime plug-in that is available for free at http://www.apple.com/quicktime/download/

See the "hot spots" map below that shows the vast amounts of oil field gases that are surfacing at Playa Vista.

The red areas include the Fountain Park Apartments. Using four foot probes an independent firm Exploration Technologies, Inc. (ETI) hired by the City of Los Angeles (Department of Building and Safety) mapped these high concentrations of methane gas.

 

See one example of a life threatening toxic present at the site.

Toluene is on the Governor's list of Prop 65 Chemicals because it is known to cause birth defects. Prop 65 Chemicals are known to cause cancer and birth defects. Prop 65 demands that clear warnings be posted at the site. Playa Vista has not posted these mandatory warnings and the city has not called for any safeguard against this toxic chemical or others present at the site.

We are asking for the toxic gas expertise of California Environmental Protection Agency's (CalEPA) Department of Toxic Substances Control (DTSC) to step in for oversight of the migrating gases including hydrogen sulfide (H2S). DTSC has an on-going Public Outreach Program which is important because it would help inform and work with the community regarding these issues. Presently, the Los Angeles Regional Water Quality Control Board (LARWQCB) has the expertise for oversight of the Howard Hughes toxic plume at the east end of the Playa Vista site. The LARWQB does not have the necessary expertise for oversight of the migrating gases and has not involved itself with the migrating gas issue at all. LARWQCB has not involved itself with the migrating gases at the site nor does it have a Public Outreach Program like DTSC. At present, we have no independent expert oversight of the toxic and hazardous gas issues at Playa Vista and surrounding communities. DTSC has asked to be able to assume the leadership role with the gas issues. We support that desire and ask Cal EPA to give DTSC that role.
The Playa Vista Visitors' Center has Liquid Boot as a membrane. The Visitors' Center has no water dewatering system under the foundation slab. Remember Liquid Boot fails at 3 to 5 psi. This jeopardizes the integrity of the membrane during the rainy season.
The Fountain Park Apartments used a membrane called Paraseal. According to City consultants it is an HDPE with an added clay backing designed for use to seal out water and that prior to Paraseal's use at Fountain Park Apartments it was not used as a gas sealant. City consultants advise that Paraseal is currently not licensed for usage as a gas sealant and Tremco, the company that owns Paraseal, currently utilizes a product called VaporLock M and Paraseal GM (Gas Membrane) as a gas sealant. VaporLock M is similar to Liquid Boot as a spray-on gas sealant.
The dewatering system under the second set of Fountain Park Apartments was changed because of problems discovered with the dewatering system under the first set of Fountain Park Apartments. However, the first system was not fixed. If the water invades the gas intake pipes of the gas mitigation system it can clog and fail. City consultants have already told us the first set of monitors have failed and that the City was asking for information on other types of monitors.
---
Grassroots Coalition believes the hand written notes on the margins of the Fleet E. Rust, Ph.D.'s letter were written by Latham & Watkins law firm for Playa Capital. To see original, unmarked letter, scroll down.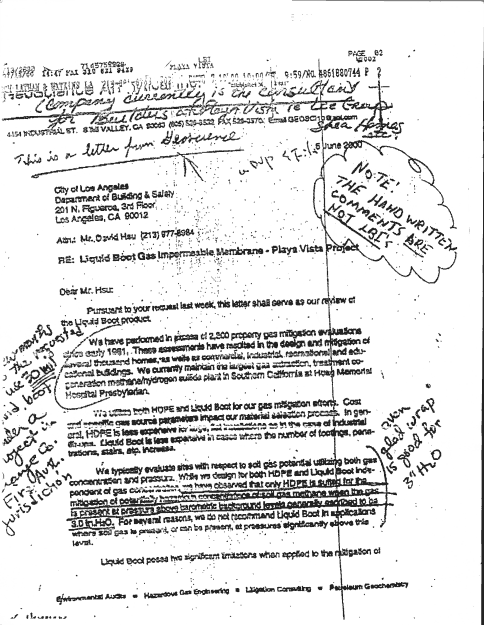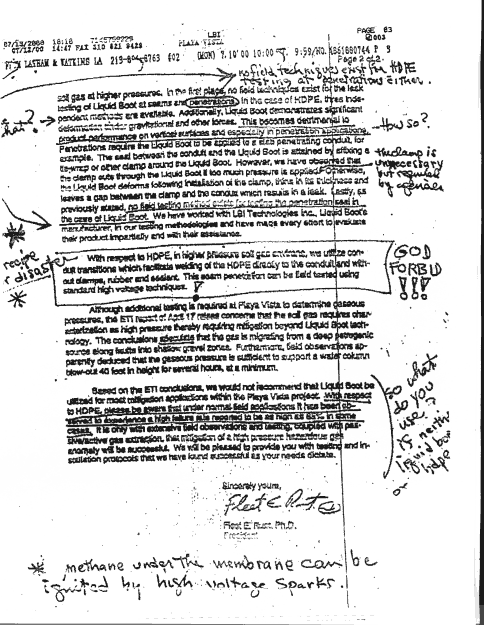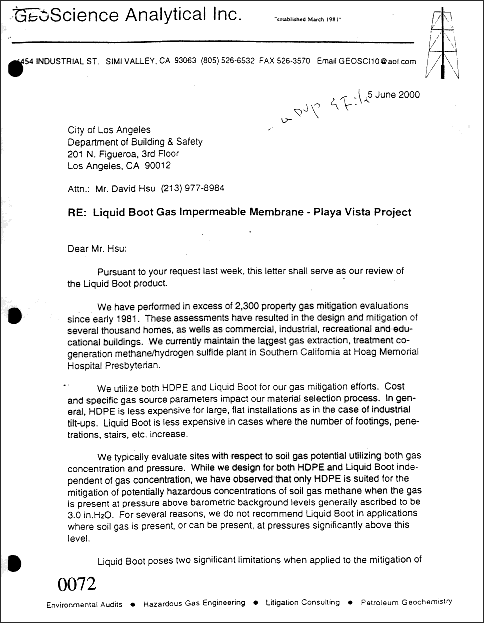 Letter from LBI to Los Angeles Building and Safety Excerpt
LBI TECHNOLOGIES, INC
November 28, 2000
Mr. David Hsu
City of Los Angeles
Department of Building and Safety
201 N. Figueroa, 3rd Floor
Los Angeles, CA 90012
8. It cannot be ignored that HDPE has a reputation of having a high failure rate. Set forth below is a list of known projects where HDPE was used and is known to be leaking:
HDPE FAILURES
5601 Wilshire Blvd., Ralphs Market in high potential zone
4782 W. Pico Blvd. Midtown Shopping Center, potential zone
580 S. San Vicente Blvd. Beverly Convalescent, potential zone
5700 Wilshire Blvd., Wilshire Courtyard offices, high potential zone
5750 Wilshire Blvd., Wilshire Courtyard offices, high potential zone
Universal Studios, Tram Maintenance, L.A. County methane zone
Universal Studios, Cineplex Odeon Theater, L.A. County methane zone
630 S. Masselin Ave., The Renaissance Apts., high potential zone
143 S. Hayworth Ave., Apartment Bldg., high potential zone
7e. The final paragraph of Mr. Rust's letter states… "that under normal field applications it has be observed (HDPE) to experience a high failure rate reported as high as 85% in some cases". In this situation we agree with Mr. Rust and his conclusions are supported by the high number of HDPE failures in the City of Los Angeles, as listed above. His solution to the problem is to have passive gas extraction, which most projects have, and extensive inspection and testing. One could ask: Why would anyone want to use a product with such a known high failure rate in the first place when LIQUID BOOT has such a proven high success rate?
Los Angeles Building and Safety has no data to demonstrate any follow up had been done, prior to 2001, to see if membrane installations were leaking. Independent consultants tell us many methane leaks have had to be repaired, often illegally. Elevator shafts, in particular, have a history of leakage in gassy areas of Los Angeles. In order to fix the leaks, part of the work includes creating a vent for the methane to outgas. The fire code states it is illegal to vent elevator shafts. Therefore, the fix is done without a permit.
---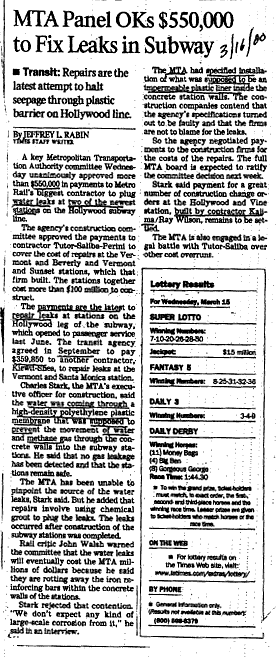 ---
---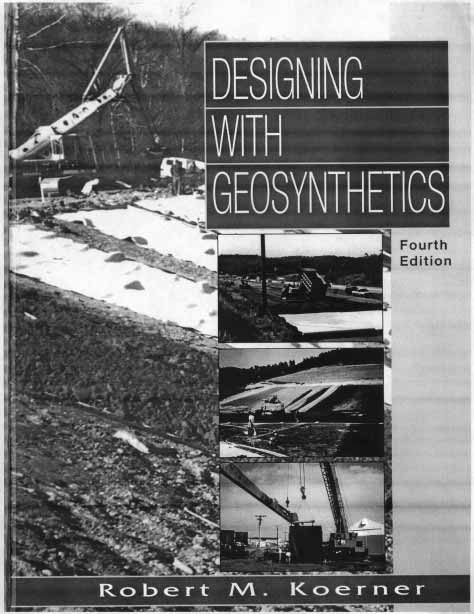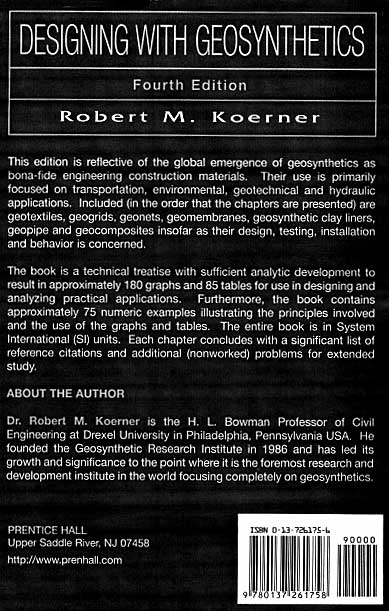 Designing with GeoSynthetics text extrapolated from pages 155-591.
2.5.4 Puncture Resistance
The geotextile must survive the installation process. This is not just related to the function of separation; indeed, fabric survivability is critical in all types of applications—without it the best of designs are futile.
5.10.4 Summary
It is generally recognized that the geomembrane industry's ability to manufacture near flawless sheets far surpasses its ability to seam separate sheets together. Futhermore, it is also recognized that the ability to make factory seams is generally considered to be better than the ability to make field seams.
5.11.3 Leak Location Techniques
None have been used with unconditional success and some are experimental.
5.11.1 Connections
The primary guidelines that a designer should follow regarding geomembrane connections are to maintain as smooth a transition as possible and to use materials with the least possible change in stiffness. Thus geomembranes connected to metal and concrete structures must be very carefully designed.
Bernard Endres, Ph.D. comments:
"Accordingly, the interconnections and penetrations at the 1000's of pylons at Playa Vista must be evaluated against the seismic hazards of liquefaction and ground wave motion during an earthquake.
5.11.1 Connections (continued)
Even under ideal conditions, leak location under the landfill is approximate at best.
Bernard Endres, Ph.D. comments:
"Accordingly, any ability to monitor leak detection for evaluation purposes (e.g., Liquid Boot and HDPE) would be extremely difficult."
5.11.4 Wind Uplift
As seen in Figure 5.73, the geomembrane can easily be torn and severely damaged.
5.11.5 Quality Control and Quality Assurance
Of all the geosynthetic materials described in this book, none are as unforgiving as geo membranes. The smallest leak when placed under hydrostatic pressure will produce alarmingly high flow rates; see Giroud et al.
Bernard Endres, Ph.D. comments:
"Any such usage at Playa Vista must be considered experimental at best. Failure could cause an explosion. Membrane integrity can be destroyed during an earthquake."
---
Environmental Strategies Corp. employed by Los Angeles Unified School District (LAUSD) for the Belmont Learning Center project expresses concern that the membrane manufacturer only warrants their product for two years but that the buildings should be functional for thirty to fifty years. These same concerns can be applied to Playa Vista.