Soeul, South Korea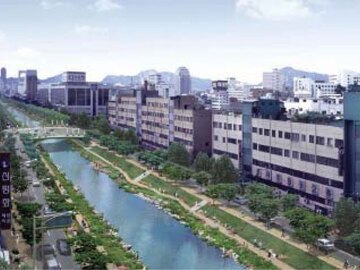 AFTER                                         
             ENVIRONMENTAL
Provides flood protection for up to a 200-year flood event and can sustain a flow rate of 118mm/hr.
Increased overall biodiversity by 639% between the pre-restoration work in 2003 and the end of 2008 with the number of plant species increasing from 62 to 308, fish species from 4 to 25, bird species from 6 to 36, aquatic invertebrate species from 5 to 53, insect species from 15 to 192, mammals from 2 to 4, and amphibians from 4 to 8.
Reduces the urban heat island effect with temperatures along the stream 3.3° to 5.9°C cooler than on a parallel road 4-7 blocks away. This results from the removal of the paved expressway, the cooling effect of the stream, increased vegetation, reduction in auto trips, and a 2.2-7.8% increase in wind speeds moving through the corridor.
Reduced small-particle air pollution by 35% from 74 to 48 micrograms per cubic meter. Before the restoration, residents of the area were more than twice as likely to suffer from respiratory disease as those in other parts of the city.
SOCi
AL
Contributed to 15.1% increase in bus ridership and 3.3% in subway ridership in Seoul between 2003 and the end of 2008.
Attracts an average of 64,000 visitors daily. Of those, 1,408 are foreign tourists who contribute up to 2.1 billion won ($1.9 million USD) in visitor spending to the Seoul economy.
Eco
Nomic
Increased the price of land by 30-50% for properties within 50 meters of the restoration project. This is double the rate of property increases in other areas of Seoul.
Increased number of businesses by 3.5% in Cheonggyecheon area during 2002-2003, which was double the rate of business growth in downtown Seoul; increased the number of working people in the Cheonggyecheon area by 0.8%, versus a decrease in downtown Seoul of 2.6%.
landscapeperformance.org
Return to Case Study Briefs Cheonggyecheon Stream Restoration Project Before After Landscape Performance Benefits Environmental. Provides flood protection for up to a ...
Links for Top Horizontal Menu: