Stop Marina Over Development Meeting
Sierra Club Airport Marina Group
April 14th, 2015 at 7 PM
Patricia McPherson and Jeanette Vosburg will be at this Sierra Club Airport Marina Group meeting. Come early as nearby parking will be limited.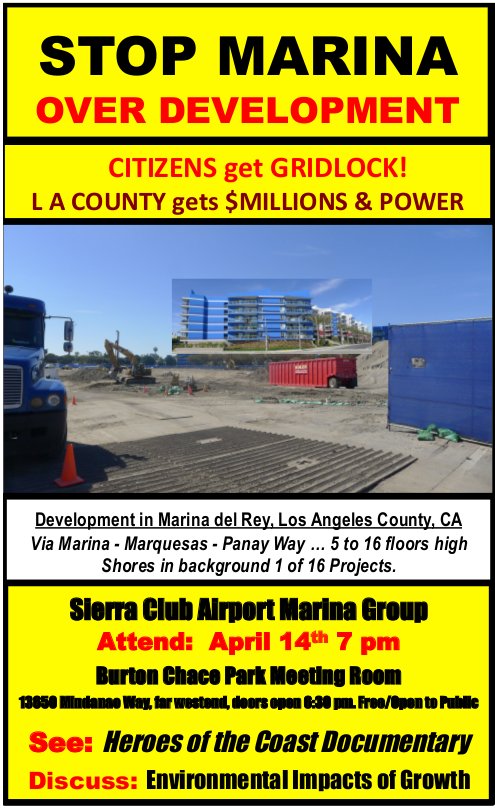 Background Information:  Marina Del Rey 1954 Creation Intent Summary
Sierra Club Airport Marina Group Meeting Location Map
Burton Chace Park, 13650 Mindanao Way, far west end.
Printable Version provided by Grassroots Coalition
Jeanette Vosburg, 310-721-3512, jeanette@saveballona.org

Patricia McPherson Bio
In 1989 Patricia started the Wetlands Committee for Sierra Club, Los Angeles Chapter. It focused on acquisition and preservation of the Ballona Wetlands. In 2003-4 the wetlands were successfully purchased with public funding.
In 1993 she founded Grassroots Coalition (GR). Currently she is leading the fight for full-disclosure of the issues surrounding overdevelopment of Marina del Rey and urging wildlife friendly restoration of the Ballona Wetlands Ecological Reserve adjacent to Marina del Rey's small boat harbor.
Website: GrassrootsCoalition.org
CONTACT: Jeanette Vosburg, 310-721-3512, jeanette@saveballona.org
Links for Top Horizontal Menu: