Action Item For Activitist: Print, fold and mail the below PDF requesting Boat Central Public Hearing by the US Army Corps of Engineers.
Click on the below link to download the PDF for printing at your location:
       Request Hearing US Army Corps of Engineers about 8 story Boat Central
Thumbnails of 2 page PDF - front side is folded inside, and the back side has the mailing address.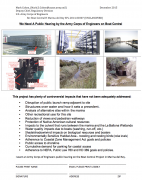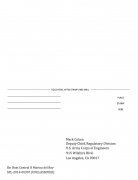 TIP: Print just the front page, fold, and hand write in the mailing address and your return address.
Excerpts:
We Need A Public Hearing by the Army Corps of Engineers on Boat Central
This project has plenty of controversial impacts that have not been adequately addressed:
Disruption of public launch ramp adjacent to site
Structures over water and how it sets a precedent.
Analysis of alternative sites within the marina
Other recreational uses for this site
Reduction of views and pedestrian walkways
Protection of Native American cultural resources
Impacts to the culvert that runs between the marina and the La Ballona Wetlands
Water quality impacts due to boats (washing, run-off, etc.)
Shade/shadow/wind impacts on biological resources and boaters
Environmentally Sensitive Habitat Area - roosting and nesting birds (noise levels)
Adherence to Coastal Zone Management Act goals and policies
Public access to shoreline
Cumulative demand for parking for coastal access
Adherence to NEPA, Public Law 780 and HD 389 goals and policies.
---
Links for Top Horizontal Menu: