Famous park architect Fredrick Olmsted designed for Los Angeles a massive park system in his 1930 book titled "Eden By Design."  Could Los Angeles be made in a modern Eden for it's residents?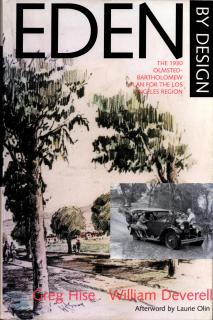 Olmsted wrote many park design books for entire cities. We include in our web site an excerpt from interview of Laurie Olin (Afterword, the last chapter in the book, which is a digest of the book, a must read if you can not read the entire book).
The agenda of the Olmsteds (Sr. and Jr.) of civilizing American cities, of suffusing urban design and planning with the benefits of healthy natural systems, of providing access to high quality open space for all citizens - young and old, commuter and resident - this idea of creating networks of parks, playgrounds, parkways, natural preserves, great civic spaces, and environmentally-sensitive suburban development has been largely taken up by the entire profession and forms the basis of much of our teaching curriculum and employment today.
Olmsted's vision for Los Angeles, has been implemented, in part, by many park advocacy groups, like the SMMC, having a connector hiking trail from Ventura Country to Will Rogers State Park in Pacific Palisades, to Griffith Park, to Burbank's Verdugo Hills, to Sylmar, to Porter Ranch, Simi Valley, and back to the beach.  Converting the LA River into a parkland for children, hikers and kayakers, as well as bicycle pathway.  Beach bike paths.  Is just the tip of Olmsted's vision for LA.
Olmsted has passed away, leaving his legacy to be created by active residents, forging relationships with elected officials, and local government agency lifetime staffers, including the civil minded developer, whose merged interests in long term livable space for all, is key to our Grassroots Coalition effort.
For more Olmsted visit the PBS Documentary www.pbs.org/wned/frederick-law-olmsted/home/ and perhaps watch their movie.
---
What people are saying about "Eden By Design" (back cover):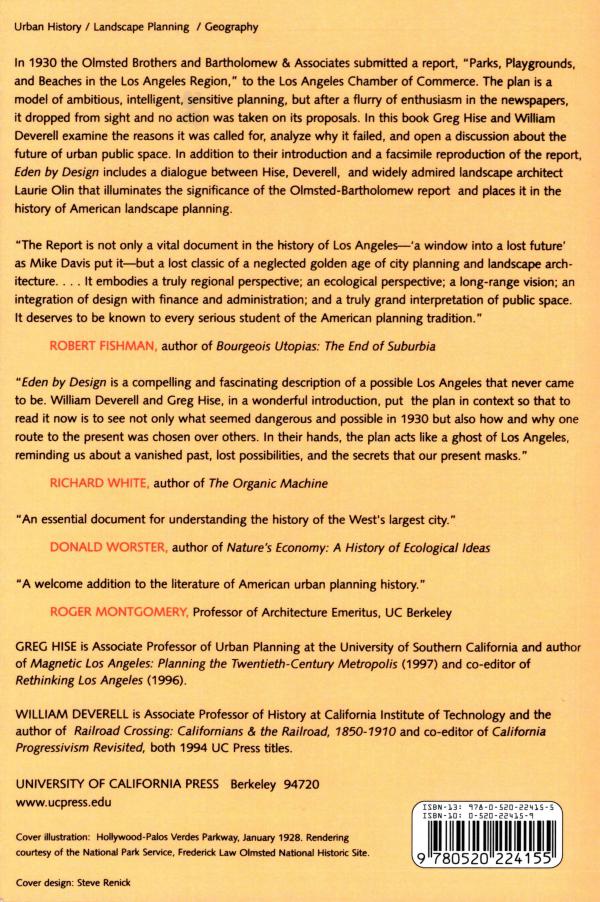 Links for Top Horizontal Menu: