2021 The dry facts on the drought in the Western U.S.
Conditions are severe in most of the region, raising risk of fire and water shortages.
http://enewspaper.latimes.com/infinity/article_share.aspx?guid=6e964970-c8ab-435e-b8f3-24c81f0299dd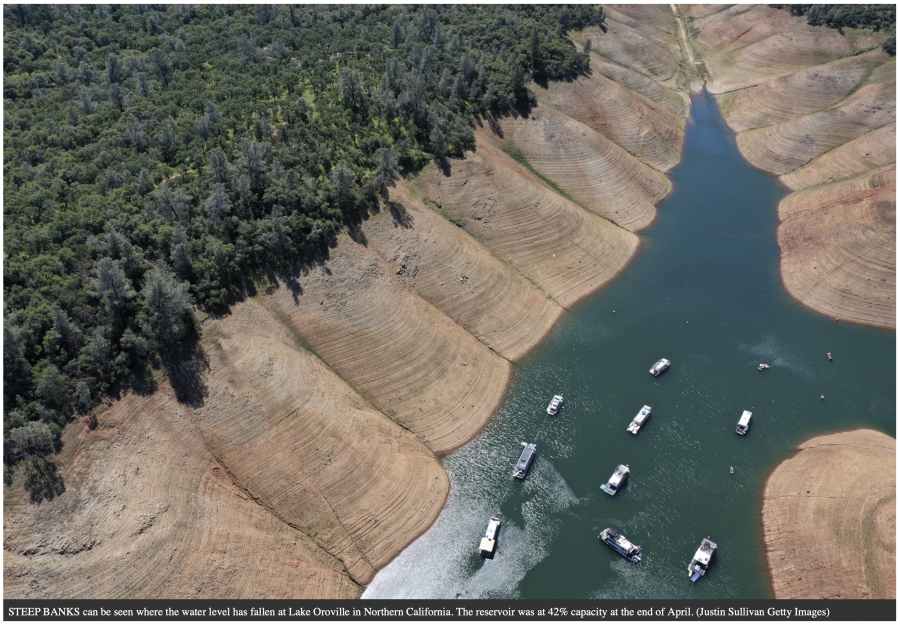 By Celina Tebor
Almost half the U.S. has been in a drought since the start of 2021.
Compounding factors — including low rainfall and snowpack, climate change and persisting droughts from previous years — have escalated into extreme dryness. That means California's population is in a drought emergency, low water levels are endangering fish in Oregon and Colorado, and the biggest reservoirs on the Colorado River — Lake Powell and Lake Mead — are two-thirds empty.        
    "What we see in our major reservoirs on the Colorado River really gives us a good indication of water and drought in the West, and whether we're in a good or a tough spot," said John Berggren, a water policy analyst at the nonprofit Western Resource Advocates. "And right now, we're definitely in the latter category."
    Water shortages can encourage wildfire spread, force water use restrictions and stretch the supply of power that relies on hydroelectric dams. 
    Here's what's happening and what may come next.
What is a drought and how are they categorized?
    Droughts are dictated not by temperature but by moisture level, meaning they can occur in every season of the year.A drought occurs when precipitation is lower than normal, leading to a water shortage, according to Brad Pugh, a meteorologist at the federal Climate Prediction Center. 
    There are five categories of drought severity, determined by factors that include stream flow, soil moisture and levels of rainfall and snowpack. 
    The least-extreme category is "abnormally dry," followed in severity by droughts characterized as "moderate," "severe," "extreme" and "exceptional." An abnormally dry drought can lead to short-term dryness, slowing crop growth and lingering water deficits, while an exceptional drought creates widespread crop loss and water emergencies.
    Which areas of the U.S. are now affected?
Almost every part of the Western U.S. is in a drought.
    Montana, Idaho, Washington, Oregon, California, Nevada, Arizona and New Mexico are all experiencing extreme and exceptional droughts, the most severe types, according to the U.S. Drought Monitor, a weekly map produced by the U.S. government and the University of Nebraska-Lincoln.
    A drought is classified in those categories if soil moisture and stream flow are in the bottom fifth percentile of typical numbers, and precipitation is lower than average.
    Colorado, Utah, North Dakota and Illinois are also facing drought conditions, according to Curtis Riganti, a climatologist at the University of Nebraska-Lincoln's National Drought Mitigation Center. 
    Although drought hasn't struck all of the U.S., the dry conditions can create ripple effects on agriculture and other industries that are connected nationwide. 
    For example, if you're buying leafy greens in winter, there's a high chance they were irrigated in California, Berggren said. If droughts become more extreme, they could lead to higher prices on leafy greens nationwide — similar to the way meat prices surged across the country in the spring of 2020 when processing plants closed because of COVID-19.    
What role does climate change play?
Climate change, caused by the use of fossil fuels, deforestation and unsustainable agriculture, has raised air and ocean temperatures, increased the risk of forest fires and worsened air quality. 
    The United Nations' Intergovernmental Panel on Climate Change lists electricity and heat production, land use (including forestry and agriculture) and industry as the economic sectors emitting the most greenhouse gases.
    Some climate researchers believe that climate change has pushed California into a "megadrought," an extreme situation that lasts for decades, although Pugh said the current drought conditions mirror typical 10-year trends.
    Berggren said the drought is "unequivocally connected" to climate change.
    "Droughts have been around in the West forever — that's just a function of life in the West," he said. "The connection is that climate change is making drought more common and making it more difficult for us to recover."
Droughts versus heat waves
Much of the Western U.S. has been in a heat wave in recent days.
    Drought conditions often lead to heat waves, particularly in the summer. Low soil moisture from drought causes more evaporation and exacerbates high temperatures, Riganti said. 
While droughts and heat waves can go hand in hand, they are not the same; droughts are measured by water level, but heat waves are determined by temperature. The U.N.'s World Meteorological Organization defines a heat wave as five straight days of daily maximum temperatures that are at least 9 degrees Fahrenheit higher than the average.
    
Dry conditions increase wildfire risk
Dryness from drought and high temperatures have analysts worried about fires. As heat builds and soil dries out, the ground becomes conducive for wildfires to spark and spread.
    In the Northwest, wildfires last year burned more than 1.6 million acres, killing at least 12 people and forcing tens of thousands to evacuate. Thousands of homes were destroyed in the fires, which cloaked the region in thick smoke for weeks. 
    Washington state has responded to 475 blazes on public land since the beginning of the year, compared with 318 by this time last year, according to the state Department of Natural Resources. Oregon is also seeing more fires than usual. A warm, dry spring has produced drought conditions in both states, as well as in northern Idaho.
    "The warm conditions have resulted in low snowpack, which is the case pretty much across the mountains in the West," said Deepti Singh, a Washington State University scientist. "The heat and rapidly declining snowpack levels are both pretty certainly attributable to climate change."
    Drought-parched vegetation and forests overstocked with trees from decades of fire suppression are a flammable mix, she said. 
Colorado River Basin reservoirs are low
Millions visit Lake Powell in Utah and Arizona each year for boating. But tourists now may be disappointed; multiple launch ramps are closed because of low water levels.
    Lake Powell serves an important purpose other than tourism: It's the country's second-largest reservoir, after Lake Mead on the border of Nevada and Arizona. The two reservoirs together can hold four years' worth of annual Colorado River flow. The river provides water to more than 40 million Americans and 4 million irrigated acres of farmland.
    Both reservoirs are only about a third full.
    "A lot of people call [the Colorado River] the lifeblood of the West, and I think that's true," Berggren said. "It's also the canary in the coal mine of the West." 
    The water levels in the reservoirs dictate whether states receive their allocated water supply. The Colorado River Basin Drought Contingency Plan will short states if Lake Mead falls below certain water elevations. The Bureau of Reclamation has forecast that the reservoir will hit a historic low of 1,065 feet by the end of 2021.
Times staff writer Richard Read in Seattle contributed to this report.
Don't skimp on coastal plans
http://enewspaper.latimes.com/infinity/article_share.aspx?guid=35f8db99-5aad-40cc-b5a0-830739faf00a
Sea level rise is not some future dystopian fantasy. It is here on the California coast. At high tide, water gushes over stairways leading down bluff trails to beaches and up to some oceanfront homes. Seawater routinely sloshes over Highway 1 between Eureka and Arcata along the northern coast. 
Homes in some towns already flood. Others perch precariously on crumbling bluffs. Sea walls erected to protect oceanfront homes (for a while) end up accelerating the erosion of public beaches on the other side of those walls.
The huge challenge of adapting to sea level rise stirs controversy in communities up and down the coast that are loath to modify their homes, roads and utilities to deal with this climate-change-induced rise in the ocean. 
But refusing to confront the problem, according to environmental scientists and advocates, will be catastrophic. High tides are getting higher and extending farther inland. The ocean is already beginning to swallow the coast.
Gov. Gavin Newsom has rightly called sea level rise an environmental priority, which makes it all the more puzzling that the California Coastal Commission was somewhat overlooked in his budget.
The commission, empowered to protect the coast, is the first line of defense in helping communities meet the threat. The agency manages an online gallery of photos people submit showing the effects of king tides — the ultra-high tides that occur when the Earth is in its closest alignment with the moon and the sun. King tides are not a result of climate change, but they are a sneak preview — and warning — of the future normal to come. 
For nearly five decades, the Coastal Commission has been charged with ensuring public access to the coast. Long before sea level rise was a crisis, the commission has been the only thing that stood between the public having access to the beach and wealthy oceanfront homeowners and hoteliers blocking it for their own purposes. That has made the commission popular with the public and not so popular with moneyed interests with lucrative developments at stake on the coast. Indeed, the agency has been historically underfunded ever since Gov. George Deukmejian, a Republican, sought to dismantle it in the 1980s. 
This is the agency that takes on landowners who block off trails to the beach, bulldoze sand dunes and do unpermitted grading of land in the Santa Monica Mountains and elsewhere. It led the decades-long effort to get public access to the long cut-off pristine beach of Hollister Ranch in Santa Barbara. 
But the commission's budget has never fully recovered from cuts in the 1980s, when it had 212 positions. More than 30 years later, it has 173 positions — and oversees 1,270 miles of coastline — currently on a $26-million budget. 
Meanwhile, the commission's work has only increased in volume and complexity. For example, there are about 2,700 open violation cases of the Coastal Act. But there are only nine people working on enforcement. Five are on the ground — one in each Coastal Commission district office except Sacramento — investigating cases and following up to see if offenders comply with orders to stop or correct the violations. The others are in San Francisco, working on the most serious cases.
Last week, the state Legislature, in the budget sent to the governor, gave the commission an additional $30 million — to be spread over five years. The majority of that money would go to grants to communities working on local coastal plans to adapt to sea level rise. 
The grants allow communities to enlist technical experts to help them sort through various approaches. Can the community restore wetlands or build sand dunes? (Both protect against the rising sea.) Should home development be stopped in certain vulnerable areas? 
In Morro Bay, city officials, working with the commission, relocated a waste water treatment facility from a vulnerable oceanfront location. Officials in San Francisco — which has completed its plan — will, among other measures, import sand to restore the beach and construct dunes in certain places.
That's a significant increase over Newsom's proposal to add just $1.6 million to the commission's budget. The governor should agree to the Legislature's increase. To be sure, other state agencies have received funds to work on sea level rise adaptation. But the commission's work is essential to helping localities plan. All that work stalls if the Coastal Commission doesn't get this funding.
But there's no stalling the rise of the ocean.
News Article or New Content: