STOP ALLOWING THE ON-GOING DESTRUCTION OF BALLONA WETLANDS
Grassroots Coalition (GC) implores the state agencies to compel the return of Ballona's freshwater to 
the Ballona Wetlands to replenish its aquifers
 and nourish its flora and fauna.

Please protect the

Public Trust

land and water of Ballona.
Playa Vista defends
De-Watering and Diverting Water Away From Ballona Wetlands in it's response to the Los Angeles Regional Water Quality Control Board's questions. Grassroots Coalition disagrees with P.V.
GC agrees with California Coastal Commission:
We think that
draining a wetland
is about the
 most amazing violation
 that you could have.... putting a drain in a wetland is exactly the opposite of anything that you'd do in a wetland.
quoted from CCC Enforcement at CCC Hearing, December 14, 2017
       PV perpetuates the 30 year old Salt Water Myth...      
The Freshwater Marsh system was designed for ... "controlling overflows to ensure the salt marsh did not receive an excess of freshwater." (quote from page 2 paragraph 3 - PDF Letter from PV's Huffman to LARWQCB). 
Huffman references the unscientific hearsay language of the 1990 Settlement Agreement, that mislabeled Ballona as a salt marsh. The permits were based upon this erroneous language that perpetuates the myth of having to save Ballona from its own historic freshwater resources. Ballona does not need to be saved from itself.
Grassroots Coalition
 on 
6/14/19 
alerts the Coastal Commissioners of
LA Regional Water Control Board answers
from 
Playa Vista in
response to issues posed by Grassroots Coalition... 
PV's diversion and throw away of freshwater from Ballona's freshwater dependent wetlands.
---
       Reality - For 4000 years Ballona has been a predominantly Seasonal Freshwater Wetland.      
Scientific studies have already demonstrated Ballona is a predominantly seasonal freshwater system. Agencies should be protecting Ballona's freshwater resources based upon the available scientific knowledge.
GC maintains its request for your participation in a multi-agency review of the hydrology of Ballona Wetlands, in order to alleviate harm to Ballona Wetlands Ecological Reserve via the ongoing Playa Vista (Ballona Conservancy), LARWQCB, CDFW diversion, pumping and throw-away of Ballona's groundwater and rainwater.
GC, below responds to Playa Vista comments and response given to the LARWQCB on 2/25/19.
BACKGROUND
The DEIR/S' restoration of Ballona Wetlands' alternatives are essentially one alternative, to dig out Ballona and create a saltwater embayment. This creation is based upon faulty assessments and hearsay premises within the litigation by Friends of Ballona et al v the California Coastal Commission. This lawsuit culminated with a 1990 
Settlement Agreement (SA-1990)
that permeates the entirety of the Coastal Development Permit 5-91-463 into which the Army Corps permit 90-426 EV, provides the description of the Freshwater Marsh System. This SA was not based in any scientific findings but instead, a politically drawn layout of what would happen to Ballona and who would control it. The public was not made aware of this SA and its wheeling and dealing of authority and outcomes. The public, and key stakeholder groups-none of which were a party to the SA, and not having knowledge of the SA terms - continued to fight for the acquisition of Ballona Wetlands. These key stakeholder groups and members of the public were successful in the acquisition of Ballona (parties to the SA had meanwhile aligned themselves wholly with the Playa Vista developers, following SA terms that included not attempting to garner any further land of Ballona. Indeed, SA members worked to confuse the public on behalf of the Playa Vista developers and worked against any further land acquisition for Ballona).
The Playa Vista developers, due to oilfield gas investigations by key stakeholder groups, namely the Sierra Club and Grassroots Coalition and key gas migration experts, became 'willing sellers' after the Los Angeles Department of Building & Safety disallowed any residential building to occur over the SoCalGas underground gas storage operations, hence no residential building would be allowed west of Lincoln Blvd.
Only in recent years have the key stakeholder groups and certain members of the public, become aware of the SA and its rather devastating terms that should not be the controlling terms for the restoration of Ballona Wetlands Ecological Reserve. The public acquired Ballona via its
public trust bond dollars
. 
Th
e land is to be restored based upon the highest available protective status, that of an Ecological Reserve. Today, we also have numerous new groundwater protection laws as well as many older groundwater and surface water protective laws that need to be scrupulously enforced. The Public Bond Dollars were predicated upon an 'iterative restoration process' and all reasonable alternatives for restoration would be considered.
This process was negated and the public's trust has been breached.
Basic and essential hydrology studies have not been performed for Ballona. The following excerpt from TREE lays out a basic concept for any wetland restoration. Instead of a pragmatic review of Ballona, the developers of Playa Vista ... as is demonstrated in the Playa Capital Company (PCC) letter to the Los Angeles Regional Water Quality Control Board (LARWQCB), continue to attempt to obfuscate groundwater and surface water issues as they pertain to Ballona Wetlands Ecological Reserve. And, the Playa Vista developers continued to work to maintain full control over their money making needs, namely — the catch basin system (Freshwater Marsh System) that Playa Vista must have as its flood control system, in order to sell its development. However, the public paid for this catch basin and nothing about it is allowed to harm Ballona Wetlands, according to all permits and according to 2006
newer Stipulations
of which the City of LA and Playa Vista and Friends of Ballona are a part. This 2006 Stipulation, an update of the 1990 SA, disallows the Playa Vista development from harming Ballona Wetlands. Since the Stipulation, it has been found that the Playa Vista developers and the California Dept. of Fish & Wildlife (CDFW) have jointly allowed for the Ballona Wetlands to be drained of its ponding rainwater via drains that were never approved by the California Coastal Commission (CCC) and were, according to the CCC, a violation of the Coastal Act.
The drains take away water from Ballona and are thus detrimental to Ballona ecosystems. Grassroots Coalition (GC) sued Playa Vista and CDFW based upon the
investigation performed by the CCC
GC prevailed and the CCC has since ordered the capping of the illegal drains and for CDFW to provide an Application for removal of the drains. The drains area, in contrast to Playa Vista consultants and CDFW claims that the area does not pond with rainwater, has since been ponding with rainwater in 2019, now that the drains are capped.
SaveBallona.org/president.presentations/ballona-wetlands.legal.review.2006.html
The specific hydrological regime is crucial to restoring biodiversity and function
Wetland hydrology has been altered through drainage, filling , dams, levees, water diversions and groundwater pumping, all of which alter the timing, amplitude, frequency and duration of high water. Restoration needs to begin by determining how the hydrology has changed2,18. Thus, plans to restore the Everglades19 are based on extensive modeling of historical water flows. Likewise, Middleton9 emphasizes the importance of flood pulses to community structure and ecosystem functioning. However, it is not clear how much of the the natural hydrological regime has to be restored. We need to know if partial improvements to hydroperiods and water chemistry can restore the biota and biogeochemical functioning. Research on the many effects of timing, magnitude,
TREE vol. 15, no. 10 October 2000
Grassroots Coalition's response to Mr. Huffman's (PV/PCC)
comments and allegations in his 2/25/19 letter to LARWQCB
is
provided below.
The following Letter of 2/25/19 (attached) from Playa Vista (Mr. Huffman) to LARWQCB
was retrieved via the Public Record Act. The Playa Capital Company, LLC (PCC) letter purports to be responsive to emails sent by Grassroots Coalition to the LARWQCB and other agencies between 1/28/19 through 2/11/19.
PCC's comments are, in the main, misleading, off-point, inaccurate and fail to provide data and information specifically responsive to information provided in GC's emails to LARWQCB.
The opening paragraph of PCC references a LARWQCB 'spreadsheet' that, at this time, GC does not have. PCC, in their second paragraph, misleadingly and inaccurately discusses a hodgepodge of their own disparaging allegations against GC, none of which has any merit.
Grassroots Coalition has not been part of any litigation that has failed to succeed. To the contrary, GC, over the past twenty years has worked with the City of LA and has been instrumental in garnering a new Citywide Methane Code and the Playa Vista Methane Detection and Monitoring Program which is experimental in many ways. GC has worked with other agencies and LA City Department contractors, including but not limited to, the Air Quality Management District (AQMD), the Division of Oil and Gas and Geothermal Resources (DOGGR) and the City's own oilfield gas expert — Exploration Technologies Inc. The result of our work has provided key informational data, helped to enable and give rise to the investigation of PCC's activities and geotechnical issues and problems of the Playa Vista site and ultimately provided for positive changes made to the PCC development project known as Playa Vista as well as providing for new, more stringent monitoring, remediation and transparency from SoCalGas/Playa del Rey that relates positively and directly to health, safety and well being for the public and the overlying habitat.
GC did not assert that the 'Freshwater Marsh' is unlawfully diverting freshwater from Ballona Wetlands to the Ballona Channel leading to the ocean.

GC does assert that the oversight/management of the Freshwater Marsh System is diverting freshwater from Ballona Wetlands to the Ballona Channel leading to the ocean.

GC asserts that this diversion and throw-away of freshwater is harmful to the ecosystem of Ballona Wetlands which includes the underlying freshwater aquifers.

PCC acknowledges on page 2 — paragraph 3
the Freshwater Marsh System was created to provide drainage for the Playa Vista Project that would support development of the Playa Vista Project.

Prior to Playa Vista the watershed's groundwater and rainwater flowed into Ballona Wetlands.

It is well established that wetlands act as a natural cleansing basin for water that flows through them. Ballona was not in need of any artificial catch-basin of Playa Vista installation and was not in need of the illegal drains that Playa Vista installed and is definitely not in need of having its freshwater resources thrown away into the the ocean or into the sanitary sewer. 

The catch basin system is a flood control component for Playa Vista to continue its build out. But for this system (or other flood control system), the Playa Vista development site would not, ostensibly, be permitted. It appears to GC, that by allowing Playa Vista to maintain its conflicted oversight of this public trust land, it obliges a 'gifting' of public resources. It is Playa Vista that benefits from this 'system', the environment of Ballona Wetlands Ecological Reserve is harmed by Playa Vista's diversion of Ballona's freshwater, away from Ballona Wetlands Ecological Reserve. The precious freshwaters are thrown away into the ocean. There is no benefit to the public's Ballona Wetland Ecological Reserve.

Any take away of Ballona's freshwater is harmful to Ballona Wetlands Ecological Reserve. There is no excuse for throwing away this precious, life-giving water.

 

As cited in the California Coastal Commission (CCC) Letter (4/11/14) to Playa Vista and CDFW … draining Ballona is harmful to the ecosystem

:

"… a water supply of a reliable quantity and quality is needed thus contributing to the habitat function of the larger Ballona Wetland project instead of directing it away from habitat regs within the Ballona Wetlands Ecological Reserve." (p. 3 of 9 4/11/14 CCC Letter to Playa Capital LLC and to CDFW re: unpermitted drains)

"… a continuous detriment to wetland hydrology and habitat that relies on water to function."

 

"… degradation of wetland function through alteration of hydrology means that the same plants may not grow and habitat value and wildlife use of the wetland are reduced." (p. 8 of 9 4/11/14 CCC Letter to Playa Capital LLC and CDFW)

Every year California Department Fish & Wildlife (CDFW) allows Playa Vista to drain the freshwater marsh water into the ocean rather than allow the freshwater to stay in Ballona Wetlands.

As discussed by Lisa Haage lead of CCC enforcement, referencing that taking away water from a wetland is the exact opposite of what one would allow in a wetland:

"We think that draining a wetland is about the most amazing violation that you could have."

 

"I mean, putting a drain in a wetland is exactly the opposite of anything that you'd do in a wetland."

(December 14, 2017 Dana Point CCC Meeting Item 10 C)

       HOW TO DRAIN A WETLAND AND GET AWAY WITH IT; THE BETRAYAL OF THE PUBLIC'S TRUST.
      http://www.saveballona.org/how-drain-wetland-and-get-away-it-betrayal-publics-trust.html

      GC maintains that the freshwater sent into the Freshwater Marsh System needs to be ultimately conveyed from there, into Ballona Wetlands Ecological Reserve, and NOT thrown away into the ocean and/or the sanitary sewer system.

Draining, diverting, taking away, throwing away the freshwater marsh's water and the pumping and throw-away of groundwater from under buildings for the gas mitigation systems, sending it into the sanitary sewer, as well as pumping clean groundwater into the freshwater marsh system which is ultimately sent into the Ballona Channel is all unnecessary, and a wasteful use of clean freshwater that is Ballona's heritage of freshwater resources. GC has provided groundwater protection laws and premises set by the Department of Water Resources (Resolution No. 88-88) to LARWQCB. Resolution 88-88 renounces wasteful practices similar to those being practiced by Playa Vista and are harmful to Ballona Wetlands Ecological Reserve.

Any dewatering, any take away of Ballona's freshwater assets constitutes harm to this wetland.

EX Parte ... Freshwater Marsh [Web Editor: quote from PDF page 2 of 5 - 763 kilobytes] -

"CDFW explained that the Marsh is not part of the Ballona Wetlands but rather leased to another property owner by State Lands Commission. They do not manage or own the spillway from the Marsh runoff. The staff agree with the concerns raised by the NGO community regarding the run off and the efforts to manage the unconnected creek. CDFW indicated that it is not diverting any of the fresh water from the marsh. There are ongoing efforts to coordinate between the owners of the fresh water marsh and the Ballona Reserve. They mentioned that the groundwater being pumped is another legacy element as it is from an old Hughes Aircraft manufacturing plant. This is part of a mitigation program to clean up the groundwater and after toxins are removed, to run it through the wetlands."

Clearly, throwing the mitigation program water either into the sanitary sewer or out to sea,

DOES NOT RUN IT THROUGH THE WETLANDS.

RUNNING IT THROUGH THE WETLANDS IS EXACTLY WHAT WE SEEK TO OCCUR, AND IS NOT HAPPENING.


CCC YouTube CCC 3.6.19   

https://youtu.be/VPsSlqo5Tzc
Clearly, the Ex Parte above between Coastal Commissioner Brownsey and CDFW demonstrates further confusion and disjointed oversight of Ballona Wetlands.

 

According to PCC, Mr. Huffman, the CDFW plays a key role of oversight of the Freshwater Marsh System via the CDFW Streambed Alteration Agreement and via the monitoring reports of the Freshwater Marsh System.

"In addition to these permits, the construction, operation and long-term maintenance of the Freshwater Wetland System are governed by a California Fish and Game Code Section 1603 Streambed Alteration Agreement from California Department of Fish & Wildlife ("CDFW")", ...(P. 3, Paragraph 6) This is not being enforced.

Yet, CDFW is telling the Coastal Commissioner (in the Ex Parte) that CDFW has no authority or management of the freshwater spillway and marsh runoff.

 

Which is it? GC requests there be a multi-agency review of these issues which includes the public as part of this conversation about who has authority over what, alongside a conversation of how to end the needless throw away of freshwater from Ballona Wetlands.

The Ballona Wetlands Conservancy is a Playa Vista construct whose Board members are not made clear to the public or agency personnel and leadership. It is not a part of the 1990 Settlement Agreement.

(GC provides Public Record Act responses to Mr. John Davis regarding these matters as a separate attachment due to its length.)

 

PCC fails to mention its EIR ('93) and the attendant mitigation which requires Playa Vista, to maintain a beneficial use of treated water to benefit the wetland vegetation. See citations below.
"Before any long term dewatering is conducted, a plan for the beneficial use of any water which is produced shall be submitted and approved by the appropriate City agency."

Enforcement Agency: Department of Building & Safety, and Regional Water Quality Control Board

Page 10 J. Appendix D — Mitigation Monitoring and Reporting Program
Surface Water Runoff/Hydrology (pg. 27 Appendix D)
B. "A stormwater management district, or equivalent, shall be established satisfactory to the Advisory Agency and the City Engineer for the future operation and maintenance of the freshwater wetland system, the riparian corridor and other necessary drainage facilities."
What engagement has ever occurred between LARWQCB and the City of LA per the EIR mitigation monitoring and reporting program?
   
      Vesting Tentative Tract No. 49104 - Agreements (further citations are contained in the EIR sections)
 
C.2.B Surface Water Quality
(pg 30 Appendix D)
A. "Prior to issuance of any grading or building permits, the applicant shall submit plans, satisfactory to the Advisory Agency, for construction of the Freshwater Wetland and Riparian Corridor consistent with (a) concepts provided in the Final EIR which have been reviewed and approved as to concept by the Dept. of Public Works of the City of Los Angeles and (b) the permits granted by the U.S. Corps of Engineers and the California Coastal Commission. In addition, the California Coastal Commission must provide approval of the final construction plans for the freshwater wetland system. A plan to guarantee maintenance of the Freshwater Wetland system in perpetuity shall also be provided. … The Plan shall include … a wetland maintenance plan, including funding mechanism to assure the plan will be implemented. The plan shall also include the … biological consultant selected by the Ballona Wetlands Committee to monitor
…
[emphasis added]
Monitoring Agency: USACE, LARWQCB, CAL. COASTAL COMMISSION
Urban Use Compatibility (pg 39, Appendix D)
G. "Culvert under Lincoln Boulevard should be of sufficient size to permit wildlife movement between Areas B and D without risk of injury or death from traffic hazards."
H. "The riparian corridor will be fenced along the northern side and at strategic locations to prevent access into the habitat area.
I. … "prior to the issuance of any permit, … a mitigation monitoring plan shall be approved by the California Coastal Commission for the loss of sensitive habitat.
Pages 107-8: O.4 Wastewater — per use of reclaimed wastewater for on-site use.
The following would apply to the Ballona Conservancy's/Playa Vista's unpermitted expansion of a permitted small "access path" into a massive roadway along the riparian corridor.
 
Page 115 Appendix D
Paleontologic Resources
B. If stabilization of the bluffs in Area D is required, a paleontologist shall monitor ground-disturbing activities on a full-time basis during grading in those areas where the San Pedro Formation would be disturbed …
Page 2 TRACT NO. 49104
II. PROJECT OBJECTIVES
C. Environmental Objective — To comply with the conditions of the Settlement Agreement and to enhance the public acceptance … to create an ecologically sound development of the property at Playa Vista which implements a comprehensive program of resource protection, enhancement, conservation and reuse.
Page 8
… "Before any long-term dewatering is conducted, a plan for the beneficial use or discharge of any water which is produced shall be submitted and approved by the appropriate City agency."
Page 11-12 Water: Ground Water Quality - UNDERLYING GROUNDWATER IS ADDRESSED TO DEFRAY HARM TO THE UNDERLYING GROUNDWATER ... SHOWING THE INTENT OF THE MITIGATION MEASURES TO COMPORT WITH THE PROJECT ENVIRONMENTAL OBJECTIVES.
"The decreased permeability of the site with development would not have significant impact on ground water recharge because the site acreage represents a very small fraction of the recharge area for the underlying groundwater system."
As is envisioned below:
"The proposed project's planned, on-going remediation of the known existing ground water contamination in Area D and utilization of the resulting treated water for the beneficial use of supporting on-site wetland vegetation, would result in a beneficial impact on groundwater."
Mitigation:
… measures ... incorporated … to mitigate … to a less than significant level:
Final Environmental Impact Report
Page III - starting at 17
"... changes to the existing drainage system would be designed with the dual objectives of flood control and water management for the restored wetland system." [emphasis added]
"would change the existing hydrological system by diverting and retaining stormwater to and in a new Fresh Water Wetland system in Area B;." [emphasis added]
Page 20
"The project's planned remediation of contamination and utilization of treated water for supporting wetlands vegetation would result in a beneficial impact on ground water in the area."
PCC throws away all of the groundwater pumped out from under the Playa Vista buildings into the sanitary sewer system. This throw away of clean Ballona groundwater is wasteful and harms Ballona Wetlands through diverting it away from use by the ecosystems of Ballona Wetlands.
THE MAIN ARGUMENT that is heard about Ballona Wetlands — is that it is being dried up and water needs to be restored.
Ballona Wetlands Ecological Reserve is a predominantly freshwater seasonal wetlands which had already been established via the freshwater hydrology studies of this area by Poland and others. See Ballona History SlideShow source data, (Slides 18 through 21 of 31)
No independent data or information was used for the CLA Report as opined as proof of groundwater diversion volumes by PCC.
The Bureau of Sanitation, Industrial Waste Discharge data was not incorporated into any review or cumulative evaluation of groundwater dewatering ongoing at Playa Vista.
Groundwater volume dewatering measurements were not used from any real-time monitoring. At the time of the CLA Report noted in the PCC Letter, many, if not most of Playa Vista's buildings did not contain and/or use such devices. During the 2008-9 timeframe, the Department of Sanitation had just learned from GC that Playa Vista had residents that had been living in buildings sites at Playa Vista and that no permits for groundwater disposal had been garnered from the Department of Sanitation. GC had retrieved the 'Applications of Playa Vista' via the assistance of Mr. Art Heath (LARWQCB).
PERMIT APPLICATIONS of Playa Vista sites: GC visited the Department of Sanitation and provided the Applications (all of which were incomplete in filling out data and required information) after which the Department of Sanitation engaged itself in investigation of the ongoing residential sites and pursued its permitting needs.
 
Lowering of a water table negatively impacting habitat. (Nature Conservancy/Ca. Conservation Science Vimeo)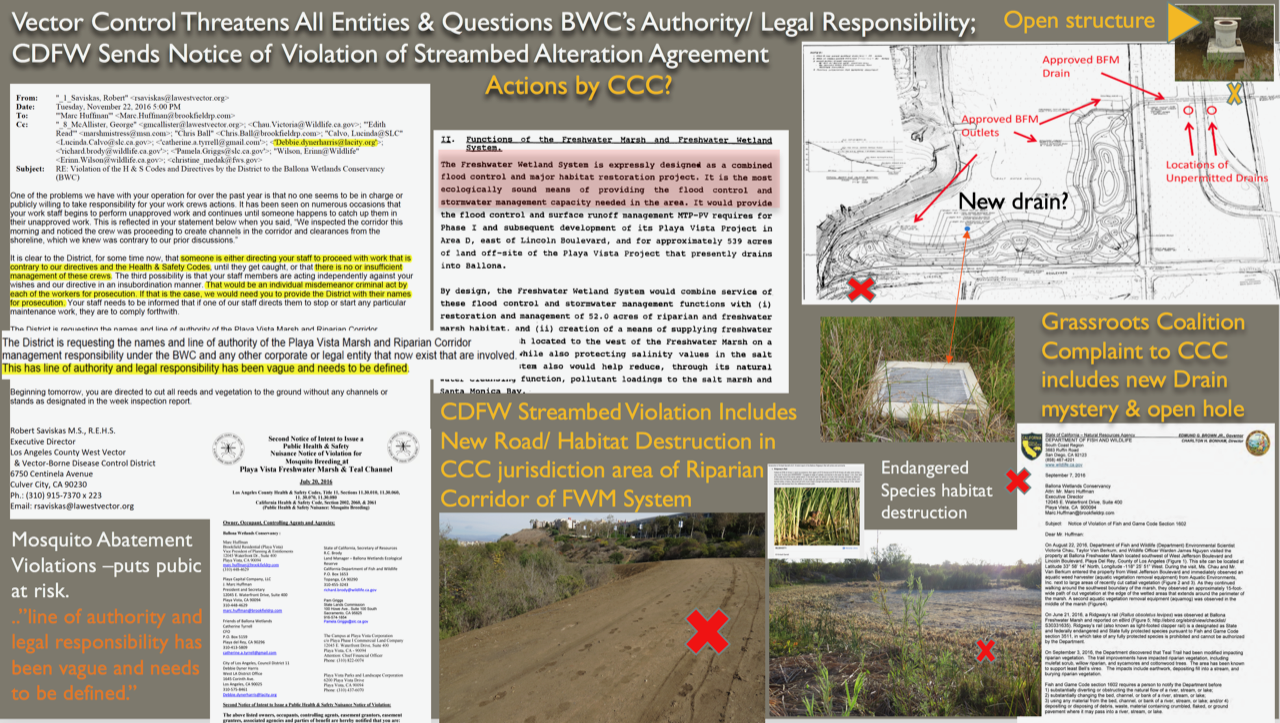 The permits for the riparian corridor included a small access pathway, no major roadway was envisioned or permitted. The major roadway seen above was not permitted for construction. Playa Vista simply created this industrial scale roadway of its own volition and was later given numerous citations by the Los Angeles Dept. of Building and Safety. LA Public Works, later was engaged in oversight of this massive new roadway that destroyed endangered species habitat (see CDFW Streambed Alteration Violation Notice) and compelled Playa Vista to produce compaction verification reports etc. that would ordinarily be done in the course of such massive construction.
The Vector Control letter above, notified Playa Vista of its own violations that had been occurring, while citing that
"... the line of authority and legal responsibility has been vague and needs to be defined."
GC agrees and continues to request a multi-agency, concerted review of the management of the Freshwater Marsh System that would include the public and be accountable for answering to the public regarding the public trust lands.
 
GC thanks PCC for providing an explanation as to the VENT — we believe PCC references the image in the upper right of GC's PPT slide above. This structure came to our attention due to the witnessing by a volunteer, of an apparent transient, using the structure as a toilet. The wooden (see in background as leaning against the concrete structure) 'lid' has been removed by someone or something, thereby leaving an open hole that seems rather treacherous for wildlife that may fall into it, resulting in their death.
The SQUARE DRAIN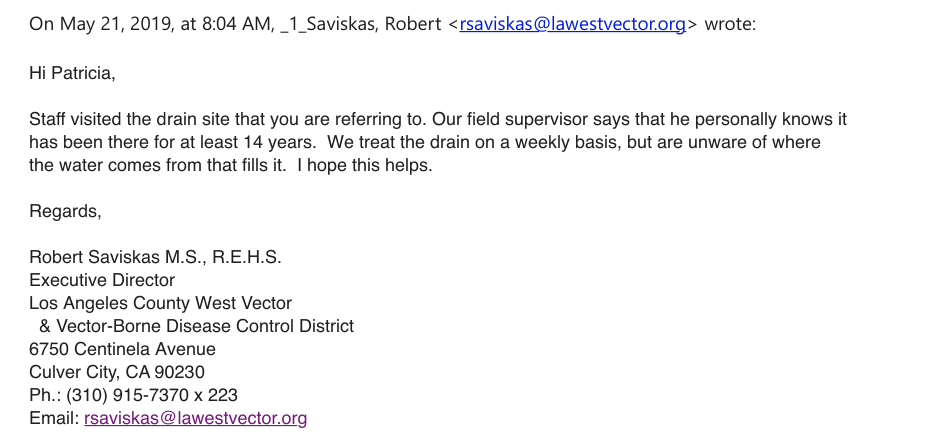 GC thanks PCC for providing an explanation of the Square Drain. According to LA City responses regarding this portion of the 'system mechanics' there is no approval for the Square Drain on record. No schematics exist in response to Public Record Act requests for this 'development'. The CCC similarly have no approvals as requested by the City of LA for final diagrams of any portion of this Freshwater Marsh development. The Square Drain contrary to the PCC letter, DOES ACCEPT water. While not, as described in the letter via a large valve. There is rainwater that fills the deep, large SQUARE DRAIN as seen in the photo below. Vector Control has stated that it treats the water in the drain on a weekly basis. Vector Control has stated that it does not know what the function of the Square Drain is.
- The Ca. State Lands Commission, in response to Public Record Act (PRA) requests, cites it does not know what the structure is, or how it functions.
- CDFW states in response to PRAs and queries, that it does not know what it is or how it functions.
Both agencies advised GC to ask Playa Vista. However, Playa Vista - Ballona Conservancy, to GC's knowledge, does not have to answer to a Public Record Act Request. GC did however, provide a PRA on 5/22/19 to the Ballona Conservancy regarding the Square Drain and has not received any response.
The Square Drain is large, having a long ladder within it attached to its wall. This area apparently allows for a stagnant column of water. Anything that may fall through the grate would likely die. This square drain, according to Google Earth images was inserted in roughly the 2008-9 timeframe, during which the public had retained ownership as public trust lands. No developments were sanctioned to occur until the restoration process was decided, according to public documents. That decision has not been made.
PCC states (p. 5), "This structure was placed simply to locate the end of that pipe at a future date since the pipe elevation is about 6 to 7 feet below the existing ground elevation."
Permits for this Square Drain appear to be lacking. And, per the statement by PCC above, it would appear that it is a "development'" that is part of the 'future' second phase of the CCC permit 5-91-463 (first phase approvals were granted by the CCC) that required an Application for the structure as well as approval from the City of LA that would necessarily include the diagrams and schematics of such structure.
PCC maintains that, in ... "2003 Cal-EPA rejected Ms. McPherson's claims since the methane was naturally occurring."
There is evidence of a leaking well in the Freshwater Marsh. Outgassing directly over a well head, in particular is indicative of a well acting as a conduit for gas migration. As cited by ETI - June 16, 2000 Letter to Mr. Hsu, Chief, Grading Division pertaining to wells acting as conduits for gas migration and his belief of DOGGR's need to take a different view on behalf of the public and the state of California's interests not being served when such gas migration is ignored.
"The purpose of well casings is to contain all fluids and gases, preventing cross-migration between different sands and protecting the freshwater aquifers." ETI
Here is the wetlands: https://youtu.be/QDXIPAYaCHA
This is recent - 2019, FLIR imaging showing the oilfield gas off gassing over University City Syndicate.
- EarthWorks & GC
2019 Oilfield outgassing over Playa Vista's abandoned oil well- University City Syndicate in freshwater marsh (public trust land/water) https://www.flickr.com/gp/stonebird/2h5k6L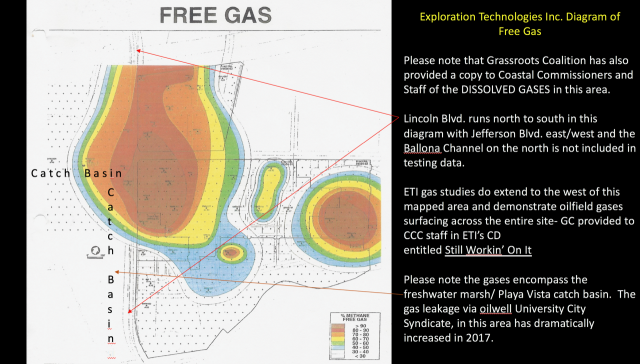 2019 Oilfield outgassing near (west) University City Syndicate  in freshwater marsh (public trust lands/water)https://www.flickr.com/gp/stonebird/J1Sc3k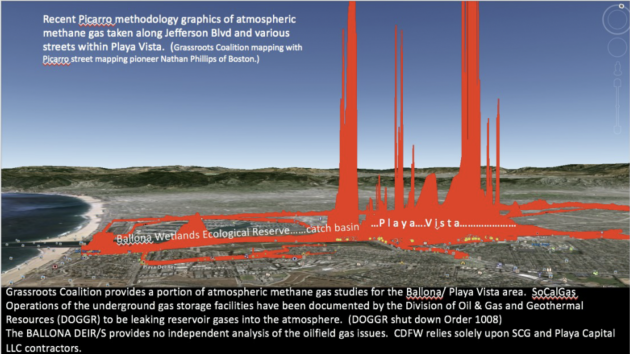 GC does not have Attachment J, so it is unclear to what PCC references. There has been no rejection by Cal EPA regarding information provided by GC. To the contrary, the locations of outgassing have been tested as a result of GC's concerns regarding outgassing in the marsh. It has been established that the gases are thermogenic and sampling shows constituents of BTEX and H2S — this information can be found in Playa Vista's own sampling data of Playa Vista consultants - CDM. DOGGR has established where University City Syndicate is located and it has also been established that oilfield gas is migrating to the surface at the well's location, occurring over the well head. This well was last abandoned by Playa Vista. It leaked shortly after it was re abandoned and DOGGR allowed for Playa Vista to put several more bags of sealant at the top of the well. Shortly thereafter, after the installation of the catch-basin and its filling with water; outgassing was documented over the well head area and to the west of the well head area. (See DOGGR documentation of both areas-attached and see the recent FLIR imaging done demonstrating outgassing over University City Syndicate.) Playa Vista's own consultants have tested outgassing from one of the areas which comports with ETI findings that it is oilfield gas. Whether it is oilfield gas or a combination of oilfield gas and SCG reservoir gas is immaterial. Wells are disallowed to act as conduits for gas migration.
PCC's claims of 'naturally occurring' are misplaced, are off-point and apparently are intended to mislead LARWQCB.
PCC also misleads LARWQCB in the comment per "several regulatory agencies have reviewed the situation, and none has found it necessary to require any changes to the Freshwater Marsh or its management." Any given agencies jurisdiction either allows for action on oilfield gas issues or does not. PCC provides no identified agency in this comment. GC refers LARWQCB back to comments made to GC by DOGGR personnel regarding this well.
 GC also is aware of numerous incidents of lack of action by agencies in the past to perform to regulations. For instance, CDFW was in violation of the Coastal Act for allowing the illegal drains to drain Ballona's rainwater and did not act to correct the situation even though requested to do so by the Ca. Coastal Commission in repeated letters over a couple of years. It, unfortunately, took a lawsuit by GC against CDFW, in which GC prevailed and CDFW then was compelled by order of the Coastal Commission to cap the illegal wells and provide an application for removal of the drains.
PCC's cavalier and misleading comments appear to be intended to marginalize the situation. Greenhouse gases are not discussed by PCC and PCC makes no attempt to help end climate change by doing their part in making certain that their well, University City Syndicate stops acting as a conduit for migrating oilfield gases into the marsh water and our atmosphere.
Contrary to PCC claims that the Drains issues are resolved, capping was only the first part of Coastal Development Applications required by the Coastal Commissioners. The CDFW have yet to fulfill and complete a permit Application to the Coastal Commission for removal of the illegal Drains. The Application is past due and when done will be considered by the Coastal Commissioners for resolution of the Drain Pipes.
Contrary to PCC comment that the area of the drains were not wetlands at the time of installation; the area of the illegal drains, were considered wetlands by the CCC. Playa Vista developers did not disclose, the installation of the drains as required, to the CCC as cited by the CCC. The photograph below shows ponding all through the area of the illegal drains. The photo was taken approximately 9 years after the ill done Settlement Agreement.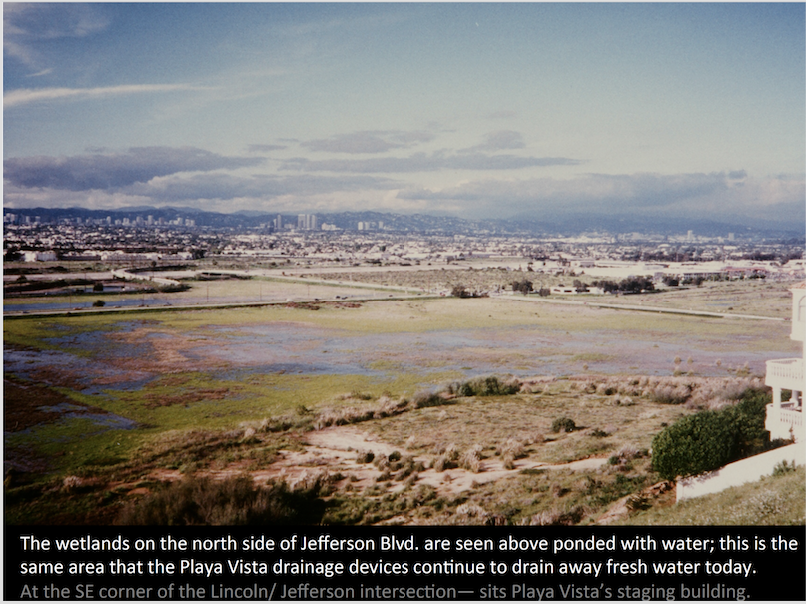 1. PCC fails to provide response to their long term dewatering done, and/or ongoing using short term construction dewatering permits.
2. "Claim — There is saltwater intrusion from dewatering" (GC, as yet, has not seen or read CDM 2/26/10 letter referenced here.)
 
It is well established in Playa Vista's own EIR and documents provided in the
Ballona History SlideShow
 included herein, that saltwater intrusion can and does occur due to over drafting of freshwater resources. This has been occurring along the S. Ca. coastline and can be stopped by various means.
Dewatering invites saltwater intrusion. Dewatering, diversion of Ballona's freshwater from Ballona simply invites saltwater intrusion and a lowering of the water table that harms the ecosystems of Ballona.
Lowering of a water table negatively impacting habitat. (Nature Conservancy/Ca. Conservation Science Vimeo)
No cumulative dewatering evaluations have been performed of the Playa Vista dewatering. The LARWQCB has discussed the lowering of the groundwater at Playa Vista by as much as 20 feet in areas. Whether Playa Vista will ever provide a cumulative analysis with bona fide dewatering measurement devices is highly speculative.
3. PCC's claims of Ballona Wetlands identification as a salt marsh is ill informed, and can only be construed as deliberate misidentification in light of the LARWQCB's classification of the underlying freshwater aquifers. The aquifer's contamination with saltwater, is manmade due to over drafting in the past. Current dewatering practices by Playa Vista cannot be a positive aid in protecting the underlying freshwater aquifers.
The area has historically been used for agricultural purposes, which provides further evidence of its predominantly freshwater nature.
Frogs, which are an indicator species, here — provide evidence of the freshwater predominance of Ballona. Frogs do not survive in saltwater environments.
PCC, appears to attempt to mislead the LARWQCB per plants they do cite as wetland plants. The plants cited by PCC, in particular, pickle weed are SALT TOLERANT PLANTS — NOT SALTWATER DEPENDENT PLANTS.
PCC is also off-point per the EIR — which does include the map of freshwater aquifers by Dept of Water Resources, shown above. The mitigation measures of the EIR (inclusive of the Vesting Tract Agreements) for Playa Vista are perpetual and are to be enforced on a perpetual basis.
What is not speculative, is that dewatering is not good for Ballona Wetlands. Depriving Ballona of its freshwater, in any way, is not good for Ballona Wetlands.
We hope to see Ballona's freshwater restored to Ballona Wetlands Ecological Reserve, instead of having the freshwater, removed from Ballona's use and thrown away.
PCC has a lengthy history of disputing any thermogenic gas exists at Playa Vista or Ballona Wetlands. Similarly, they have a lengthy history of claiming no wetlands exist where they choose to build.
PCC should not have direct oversight of the FWM system. Its interests are highly conflicted and provide no benefit to Ballona Wetlands Ecological Reserve.
GC hopes that the LARWQCB will review this response to PCC's comments and allegations. (Please also include review of the next 2 of 3 emails which includes the John Davis Public Record Act responses from state and local entities regarding the Ballona Conservancy.
[Webmaster: See below.]
)
Please feel free to contact GC for further documentation and/or response,
Patricia McPherson, Grassroots Coalition
---
Email #2 to Mr. Kang and Ms.Williams
Hello Mr. Kang and Ms. Williams,
Provided below are further attachments for Grassroots Coalition's response to Playa Vista letter to LARWQCB on 2/25/19 regarding Grassroots Coalition's information provided to LARWQCB.
BTW — THE VERBAL MOTION OF 6/30/05 attached*, we believe has been violated by Playa Vista. With respect to a.
"The Developer agrees not to seek any new or modified approvals that would have an impact materially more adverse than that permitted by the development currently approved, as a contractual matter, that it will not complete the final phase of the development until it has completed all the required traffic and ecological improvements."
We believe that the CA. DEPT. OF FISH & WILDLIFE STREAMBED VIOLATION NOTICE per the destruction of Riparian Corridor habitat and Playa Vista's unpermitted development of a massive new roadway in the same corridor (which previously contained an approved, small access PATHWAY) alongside Playa Vista destruction of habitat in endangered species habitat areas of both the Riparian Corridor and the Freshwater Marsh area — constitutes a breach of the City agreement.
Thank you,
Patricia McPherson, GC
Attachments:
John Davis Public Record Act information re: Who is Ballona Conservancy - PDF - 5.4 megabytes
2006 Stipulation update to 1990 CCC Settlement Agreement - No harm to Ballona - PDF - 6.7 megabytes
DOJ letter: Fast tracking of Settlement Agreement eliminates environmental studies - Word Docx - 3 pages - 4 megabytes
* Courtesy of Tonga Ancestral Territorial Tribal Nation (TATTN)
Additional Information
Significance of the Ballona Wetlands Conservancy
IRS Forms 2014 - 2015 - 2016
Ballona Wetlands Conservancy's actions of drying/draining/dewatering harms the Wetlands, it does not nourish them, a direct contradiction to their Mission Statement to preserve environmentally sensitive wetlands.
The B.W. Conservancy is demonstrably not the Committee referenced in the DOJ LETTER, which includes agency and Council District oversight. The B.W. Conservancy, as is seen in the personal signatures of the board, appears as a wholly private business representing Playa Vista residents, whose oversight of their flood control system/catch basin (aka freshwater marsh system) benefits Playa Vista.
The oversight by the Ballona Conservancy pumps, diverts and throws away Ballona's freshwater resources away from Ballona into either the ocean and/or the sanitary sewer. This we construe as causing harm to Ballona Wetlands Ecological Reserve which is in direct contradiction to their Mission Statement to preserve environmentally sensitive wetlands.
The Form 990 Part III Field 4a is the BWC Mission Statement: acknowledges Ballona is one of the last large freshwater coastal wetlands and ecosystem in LA County, which contradicts their erroneous and inaccurate description of Ballona as a salt marsh.
Attachment 1 - 2014 IRS Form 990 - 24 page pdf - 1.7 meg
Attachment 2 - 2015 IRS Form 990 - 24 page pdf - 2 meg
Attachment 2 - 2016 IRS Form 990 - 23 page pdf - 2.5 meg
Excerpts from the IRS Form 990 for all three years
​Part I Field 1 Summary:
"The preservation & maintenance of environmentally sensitive coastal wetlands"
Part III Field 4a:
"The Conservancy performs specific maintenance, preservation and environmental testing of the Ballona Wetlands area... The Ballona Wetlands represents one of the last large fresh-water coastal wetlands and ecosystems in Los Angeles County, California."
*
Links for Top Horizontal Menu: